The team DIGA-Procross Husqvarna traveled with the championship leader in the ADAC Youngster Cup Jeremy Sydow and the Swede Filip Olsson to the final of the ADAC MX Masters in Holzgerlingen.
Qualifying Saturday was 100% on point for Jeremy Sydow. With a time of 2.05.451, Sydow set the fastest lap time in his group and was thus able to choose his starting position as the second rider on race Sunday. Filip Olsson, who prefers sand tracks, struggled with the track and set the sixth fastest time with 2.09.412.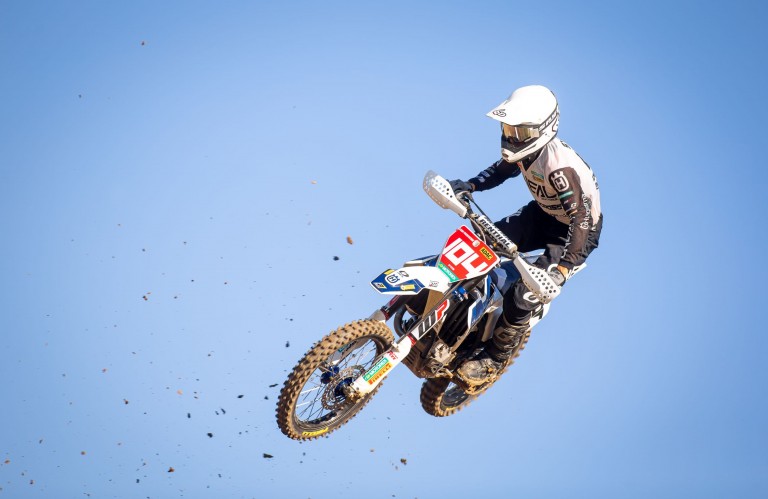 On race Sunday, in summery weather and best track conditions everything seemed to go according to plan. Jeremy Sydow took the holeshot and lead the field. But already in the first round almost all title dreams were buried, when the chain of Jeremy Sydows motorcycle jumped off and thus the race was finished. Filip Olsson had a bad start and was in sixth place after the first lap. Over the course of the race, Olsson crashed again and a lot out of the Top20. At the end of the race, Olsson narrowly missed the points with 21st place.
In the second race Jeremy Sydow was able to win the start again and controlled the entire race from the top. In the meantime, Sydow managed to extend his lead to over 10 seconds and finished the second moto confidently for himself. Filip Olsson was in the midfield after the start and had to work his way forward during the race. At the end of the race, Olsson finished twelfth.
Due to the DNF in the first race, Jeremy Sydow missed the championship title by 11 points and finished in the championship standings at the end in second place. Filip Olsson finished in his first season in the ADAC Youngster Cup on the respectable ninth place.
Jeremy Sydow: "In the first race I took the Holeshot and led the race. Unfortunately, a stone in a turn dropped my chain and the first moto was over. The feeling was indescribable as I realized the DNF. In the second race I took the Holeshot again and was able to lead the entire race and win in a sovereign manner. The first moto cost me the title in the Youngster Cup, but I am satisfied with the season and look forward to the next season. "
Filip Olsson: "It was not an easy weekend for me. In the first race I was a bit unlucky and narrowly missed the points. In the second race, the start was mixed, but I was satisfied with the speed in the second race. "
Justin Amian: "It is a pity to lose the championship at last weekend due to a DNF, but I am incredibly proud of my riders and all the team members for the tireless work throughout the season. We've had a lot of highlights and we've all evolved continuously. "
Text: Kevin Baltes
Bild / Picture: Ralph Marzahn / Onealracing